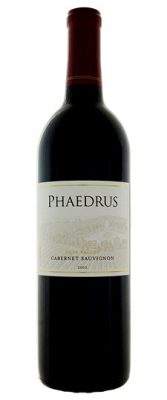 Wolf Family Vineyards 2014 Phaedrus Cabernet Sauvignon
Napa Valley California
This 2014 100% Cabernet Sauvignon is a blend of fruit from the more recently planted estate vineyard on White Hall Lane in St. Helena and the Montgomery Vineyard in Calistoga. Although it was aged for 20 months in 67% new French oak barrels, there is only a bit of oak spice, yet no woody aromas evident on the nose, which also indicates the wine has great balance with restrained, not forward, red fruit aromas. The quality of the excellent 2014 vintage also lends a nice vibrancy to the fuller-bodied palate where dark plum and blackberry flavors co-mingle with notes of dried tobacco. The balance promised from the nose delivers in spades with an excellent ratio of fruit to tannin and a wonderfully smooth texture. It shows great finesse at such a young age and is incredibly approachable and delicious right out of the bottle.
Buy this by the 6pk for $44.99 per bottle