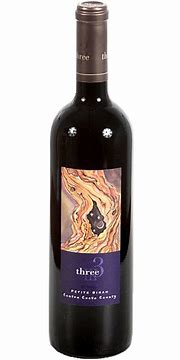 Three Wine 2015 Petite Sirah Contra Costa County California
Enjoyabilityfactor 92 Rating
$19.99 bottle by the six pack $18.00 bottle
Our Petite Sirah vineyard has vine rows running east to west with a high of about 20' elevation on the east side to about sea level on the west end. Due to the soil type and moderate growing conditions, the vineyard produces low yielding small berry clusters with intense color, structure and fruit flavors. Explosive aromas of blueberry preserves and sweet herbs and packed with blueberry flavors and firm tannins, accentuate this ultra-concentrated Petite Sirah. Drink now for its primary fruit plushness or age 5 to 7 years to help soften the tannins.
You must be at least 21 years of age to purchase wine. By placing your order you have represented to theWinetoBuy.com that you are at least 21.
All wines delivered must be received by an adult of legal drinking age.
We use FedEx for deliveries and offer 3 shipping options: Ground Service – approximately 2-5 business days in transit. 2nd Day Air – 2 business days in transit. Next Day Air – 1 business day in transit
An email will immediately acknowledge receipt of your order, while a second email will confirm your order has been processed and is prepared for shipment. We will contact you by the end of the next business day if there is any problem with your order. While we make every effort to show accurate product listings on our website, thWinetoBuy.com is not responsible for typographical, pricing errors, and omissions. Thank you for your understanding.
Please note that your shipping costs are estimated. Actual costs will be confirmed with you when your order is placed.
Many states restrict the shipment of wine. Please accept our apologies if we are unable to ship to your area. We cannot ship to the following states: Alaska, Hawaii, Massachusetts, Montana, North Dakota, Puerto Rico, South Dakota, Texas, Utah. For more information on state laws concerning shipments of alcohol, visit: www.wineinstitute.org/shipwine