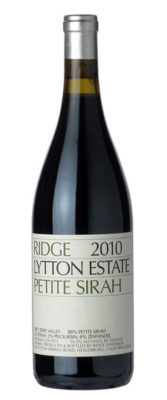 Ridge Lytton Estate 2015 Petite Sirah
Dry Creek Valley California
Antonio Galloni 94 Rating
Share Tweet
The 2015 Petite Sirah Lytton Estate is all class. There is plenty of depth to the inky blue and purplish Petite fruit, while the tannins are remarkably polished for a young Dry Creek Petite. Hints of lavender, tobacco, mint, smoke and crème de cassis develop in the glass, adding further shades of complexity. This clay-rich site seems to be especially well suited to Petite. Whole berry fermentation and gentle extractions yield and especially refined Petite. The 2015 is another drop-dead gorgeous wine from Ridge.
Buy this by the 6pk for $32.99 per bottle